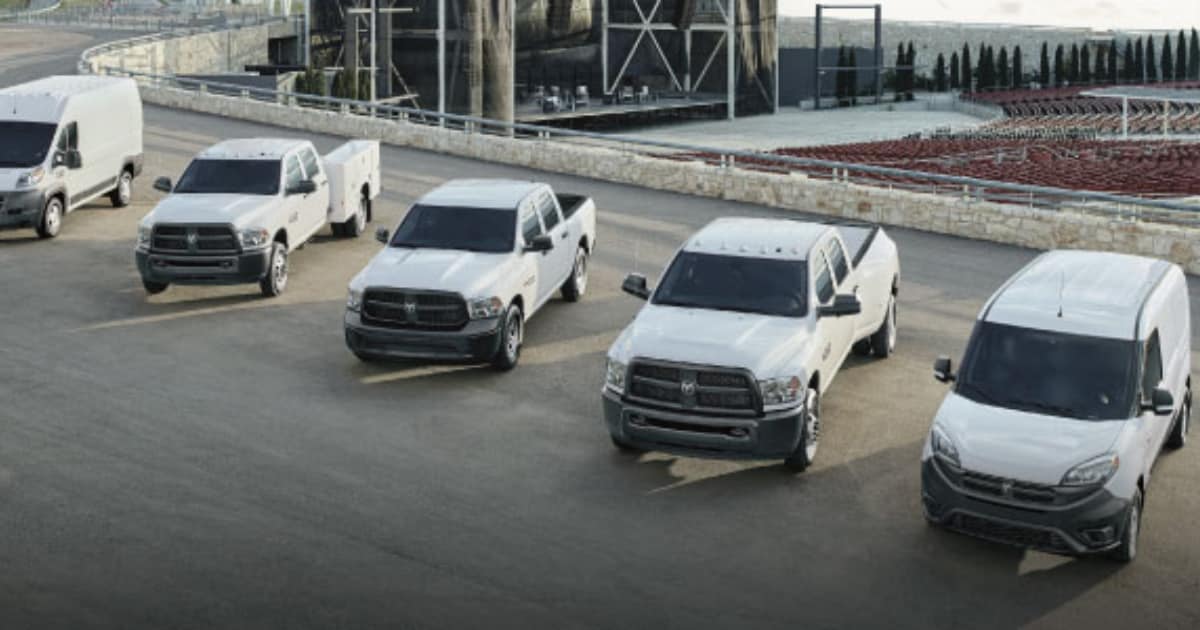 ?
Between dealership and private-party sales, almost 40 million used vehicles are sold every year. Commercial vehicles are part of those used vehicles sold annually. What does this mean for your business? It means there are plenty of opportunities to find commercial vehicles for sale whether you wish to purchase commercial trucks, commercial vans, or any commercial models required. There are actually many advantages to purchasing commercial vehicles from dealers. Shop for a new or used commercial vehicle from an auto dealer ready to provide you with flexible and affordable terms that fit your professional requirements.
A Chrysler, Dodge, and Jeep Dealer Offers a Wide Selection of Vehicles
You may already know which type of commercial vehicle you want. If you don't, it's wise to use the services of a Chrysler, Dodge, and Jeep dealer that offers a wide selection of trucks, cars, and vans. They have the commercial vehicles for sale that will fit your budget and comfort. Drop by their showroom, or make an appointment to drop by, so you can view the commercial vehicles available.
Caring dealers know that you're busy running your business. If you need to communicate and can't get away choose your preferred method whether it's by phone, chat, text, face-time, or email. You are guaranteed transparent negotiations for used or new commercial vehicles for sale. Would you like to test-drive a vehicle but your calendar is tight? Easily schedule a test drive from your location. Nearly every service offered including financing can be arranged from the comfort of your office.
Commercial Car Dealers Have Already Done the Research for You
Commercial car dealers know that you need to be informed of every tiny detail about a vehicle. Knowing more about which type of vehicle is better for your business helps you make the right purchase. Top dealers are ready to provide you with all of the information you need to make an informed decision, even about technology. The goal is to assist you in working faster and smarter with the right vehicles. You want to strike a balance between familiarity and innovation. Commercial vehicle dealers understand this and will do everything they can to help explain operational learning curves, as well.
You Should Care About Appearances for Commercial Vehicles for Sale
The commercial vehicles you purchase are going to represent you and your business. They are your moving advertisement meant to attract potential customers and clients. That's why it is important that you care about the appearance of commercial vehicles for sale. Don't just ignore the look of a van, truck, or car just as long it runs well. Top dealers are going to take care of the inside and outside of the vehicles they sell.
Use a Commercial Vehicle Dealer That Sets Themselves Apart from the Rest
Dealers that really want your business have aspects set in place that help business owners. One such aspect is a membership with programs like BusinessLink. This program connects dealers with small business owners who need assistance in finding the commercial vehicle that will benefit their business the most.
Business-friendly dealers also offer incentives such as a provided allowance for personalized car graphics, equipment additions, and a 2-to-4-year service allowance. Inquire about other special programs they offer too including preferred price rewards programs, cash allowances for adaptive equipment, and support from various associations and federations that grant cash allowances of commercial vehicles used every day.
How Can a Dealer Help with Commercial Vehicle Financing?
A dealer can assist businesses in establishing a commercial line of credit with seasonal payment plans agreeable to both parties. When you envision your own commercial vehicles branded and fully loaded and hitting the road, speak with accommodating dealers ready to help you meet those goals. Ask for more information regarded buyer-centric programs, and about their inventory of commercial vehicles ready for purchase.